The automation of warehouses is bringing a revolution in the logistics industry, offering advantages such as increased efficiency and productivity as well as cost reductions. However, putting automation into place in a warehouse environment does not come without its share of challenges. There are many that need to be overcome before an implementation can be considered successful. These challenges range from technological complexities to employee adaptation. In this article, we will investigate some of the most significant obstacles that must be overcome in order to successfully implement warehouse automation, and we will discuss potential solutions.
Technological Integration and Complexity
The seamless integration of different technologies is one of the primary challenges that must be overcome in order to implement warehouse automation. Robotics, conveyor belts, automated storage and retrieval systems (also known as AS/RS), and software designed specifically for warehouse management are typically the elements that make automation systems. It is possible that the task of ensuring that these different parts work together efficiently will be difficult.
In order to overcome this challenge, careful planning of the implementation procedure is absolutely necessary. This includes carrying out an in-depth analysis of the infrastructure that is already in place, locating any potential delays, and developing a plan for the implementation of the change in stages. In addition to helping to streamline the integration process and ensure compatibility between various automation components, working together with experienced software developers and technology providers can be of great benefit.
Workforce Adaptation and Training
When automation is implemented in a warehouse, employees frequently express concerns about their ability to adapt to new technologies as well as the security of their jobs. The implementation process can be slowed down by resistance to change, which can affect overall productivity.
To be able to conquer this obstacle, it is crucial to include employees in the automation launch procedure from the very beginning. Communication that is open and honest about the reasoning behind automation, that emphasizes the benefits that it brings, and that addresses concerns can help alleviate fears. It is also extremely important to provide employees with comprehensive training programs to equip them with the skills necessary to operate and manage automated systems. It is possible to further encourage workforce adaptation by providing opportunities for retraining and highlighting the possibility of positions requiring higher levels of skill.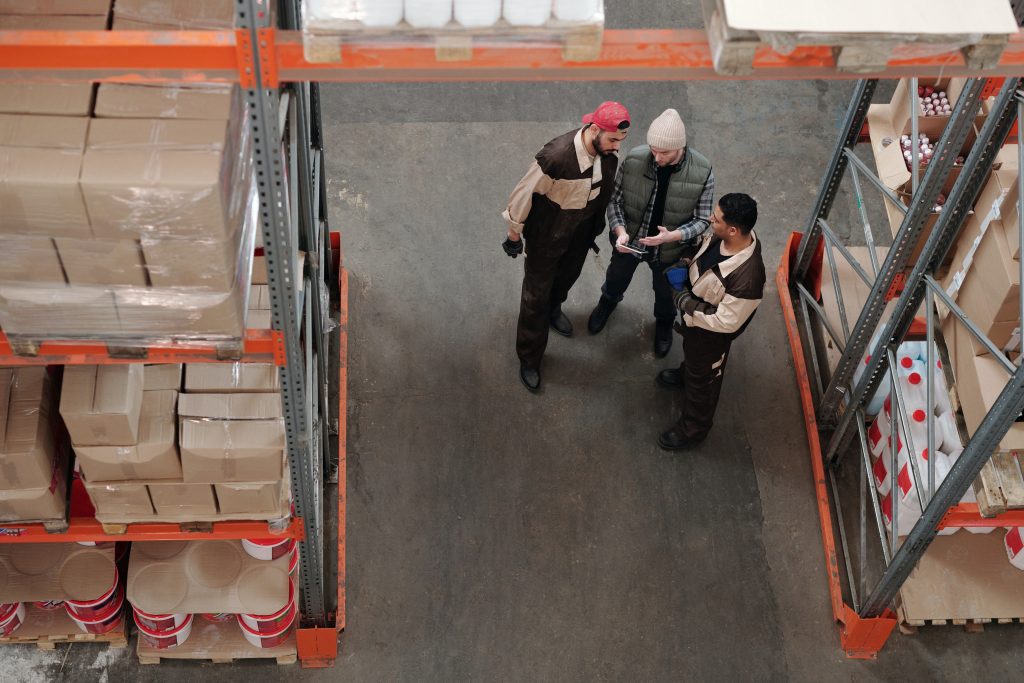 Because warehouse automation systems are made up of a wide variety of electronic and mechanical components, it is essential to perform routine maintenance and support in order to ensure smooth operations. Problems with technology, unscheduled downtime, or malfunctioning systems can have a significant negative effect on both productivity and customer satisfaction.
The development of a solid maintenance and support strategy is absolutely necessary if this challenge is to be overcome. This includes performing routine inspections, keeping preventive maintenance schedules, and reacting quickly to problems in order to diagnose and repair them. When it comes to effectively addressing maintenance needs, close collaboration with technology providers or system integrators who offer comprehensive support services can provide the necessary expertise to meet those needs.
PERUZA's Plastic crate palletizing and depalletizing system
We, the PERUZA's team, know how difficult it is to implement new technologies. So, we offer full support and our knowledge throughout the process.
One of the popular solutions is PERUZA's Plastic crate palletizing and depalletizing system. It's an automated warehouse solution that provides a 2 in1 system for palletizing and depalletizing plastic crates.  It's possible for crates to hold a wide variety of goods, such as raw produce, glass bottles, or even different types of packages. The one-of-a-kind gripper that we've designed can be adapted to meet any requirements you may have.
Forklifts can be used to transport incoming crates to the production line, where they are fed to the pallet conveyor system. They can also be positioned directly in the frame of a pallet as an alternative. The process of depalletizing and palletizing is carried out entirely automatically by product recipes that have been set. Either a person can pick up ready pallets from pallet frames or a conveyor system can deliver them to the appropriate location. An additional available add-on is an automatic wrapping system for pallets.
Main benefits:
Adaptable to customer needs;
2 in 1 system for palletizing and depalletizing;
Modular system layout for various products.
Warehouse automation implementation is not without its challenges, but with a strategic approach and a focus on addressing these challenges, organizations can unlock the full potential of automation. By embracing automation technologies, businesses can enhance efficiency, accuracy, and customer satisfaction while empowering their workforce to embrace new skills and contribute to the evolving landscape of logistics and warehousing.
As robotics, automation, and machinery develop, you must look into the best possible solutions now. If you're interested in learning more about how PERUZA can help you get the best results with your food processing, feel free to get in touch at info@peruza.com, and we'll be happy to discuss the possibilities of us creating something great for your fish processing business!