In all industries where everything was traditionally conducted manually, new machines are now being used due to advance technologies. One of the most well-known sectors that have fully embraced modern technological advancement is food packaging. Apart from fruits and vegetables, every food item you consume comes in some form of packaging. Regardless of the food kind, an automated food packaging machine is used for this packing.
In this blog post, you will learn all there is to know about automated food packaging, how it is done, the benefits of the process, and the best technologies.
Automation in the food packaging process
Automation plays a significant part in raising the competitiveness of your company, regardless of whether your goal is to raise labor productivity, expand your facility's capacity, or improve food safety. Also automating the production and packaging is the best solution to meet the demands of the supply chain – the food industry needs automated packaging systems that can process big volumes at rapid speeds.
Systems for packaging food are needed at various points along a production chain. To begin with, a naked product needs to be wrapped or enclosed in the main packaging. Before the products are packed into a larger case and stacked pallets for distribution, secondary packaging is used to load the products into cases or cartons. To support the entire supply chain, each of these automated systems needs to run quickly.
And if you still wonder if packing is important, remember, in every area of the food packaging industry, automated food packaging lines are present, without a doubt. Every form of packing line work you can imagine has a robotics solution, from straightforward pick and drop operations to intricate processes like can sealing or pouch manufacturing. In reality, even cheap candies that you purchase have gone through stages of automation in food packing.
How is automation useful in food packaging?
Automation is so important in the food processing and packaging industry because of the various benefits it provides. Let's look at the most important ones: 
Safety & Protection –

Automated industrial robots improve workplace safety and protection, reducing the risk of worker injury. For instance, using automated technologies rather than manual labor can process and package meat products, preventing injuries from sharp blades.

Productivity & Flexibility

– The

productivity of production lines

can be increased by many when robotics are used in the food industry. Thousands of products can be processed by machines in the time it takes a human to process only one. And when it comes to flexibility, machines that automatically package food can have their performance and output changed as needed by the manufacturers.

Lower operating costs & Consistency of production –

In comparison to a factory that packages food manually, an automated facility incurs cheaper operating costs. This is because machines in an automated factory just need electricity, and other operating expenses are minimal, making them economically viable. Automated food packaging generates consistent products across the board. Machines pack the products, thus there is no human error in the process. Each product will be nearly identical because they all have the same weight, size, and appearance.

Increase product quality & Longer shelf life

– products that are packed and sealed in proper cases or boxes will last longer, increase the shelf time, or in other words expiration date. The right choice of package material also will provide better quality of the product as well.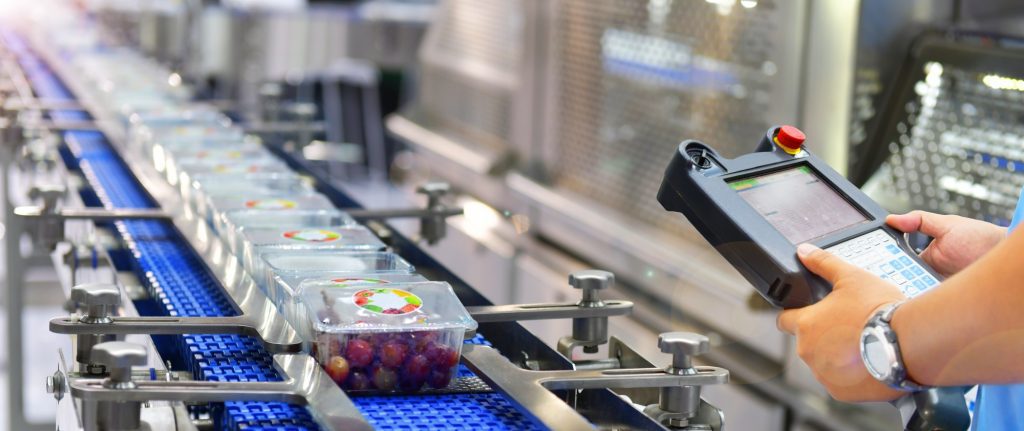 Types of automated food packaging technology
There are several technologies available, each of which was created for a specific task. The following are 3 frequently used methods in food processing and packaging, but there are many more that variates from product to product:
Raw Food Packaging

– Uncooked vegetables, fruits, seeds, cereals, and other products fall under the category of "raw food." The principal packaging technology that specializes in these products is raw food packing. This is typically done using paper or polyethylene, both of which are inexpensive and do not chemically react with the different foods.

Boxing

– Products are loaded into boxes using box packing machinery, also known as boxing. These machines also perform the task of making boxes from plain cardboard sheets. These devices are typically used in the tertiary or secondary packaging of food processing.

Case Packing

– Robotic cases packing machines, also known as case packers, pack food products into cases. The secondary packing of food goods typically uses one of these devices. Secondary packaging suggests that the food products are not directly in contact with the case packing system but are instead separated by a different packing technique.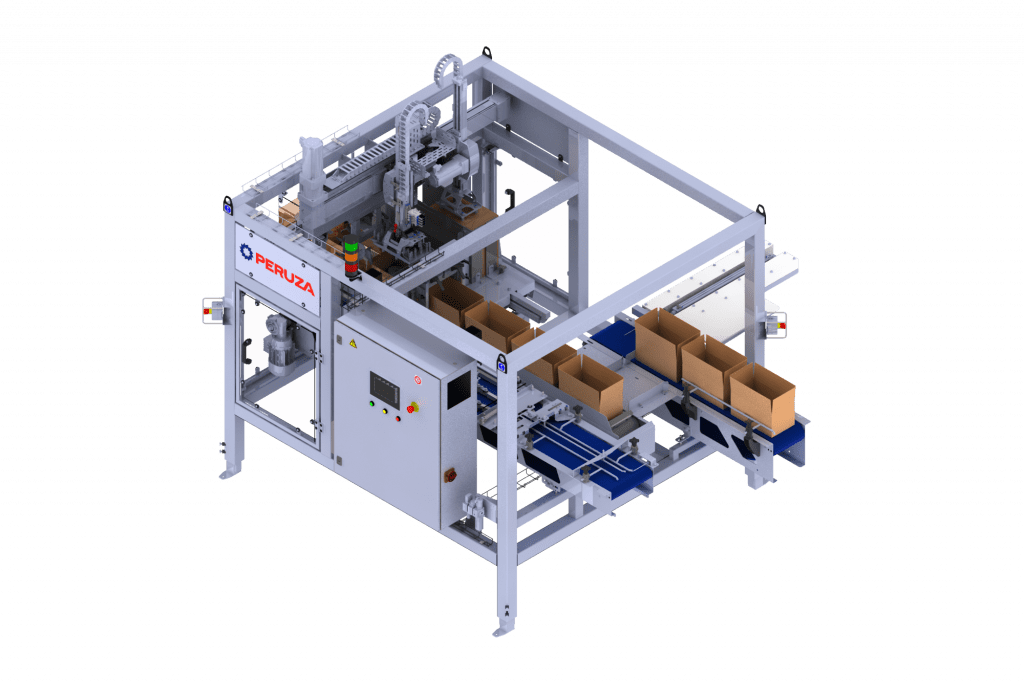 PERUZA's Case packer is designed for packaging products in cases in factories with high-speed production lines. And this automation solution is designed by the requested product specification. This system can be used as a side case packer and also a top case packer depending on the product and packaging type. Case packers can be used with various materials – metal, plastic, and glass. Processing capacity can reach up to 600 p/min and cycle time up to 2.5 seconds, depending on the product. The main benefits are:
Adaptable to customer needs and layout from 2 x 4 to 4 x 5 products;

Wide range of case sizes; 

Can be equipped with slip sheet dispenser between layers; 

Can be equipped with case erecting, case sealing, printing, and labeling machines.
Automation in food packaging is now the standard rather than a trend. Anyone working in the food and beverage sector who isn't using the most modern food robotics may not even be able to stay up with the competition. 
As robotics, automation, and machinery develop, you must look into the best possible solutions now. If you're interested in learning more about how PERUZA can help you get the best results with your fish processing, feel free to get in touch at info@peruza.com, and we'll be happy to discuss the possibilities of us creating something great for your fish processing business!