As the world is changing so fast and technologies are the main turning point of our business, it's great to stop and meet other industry representatives from around the world. So, we were glad to take part in the Halieutis fair 2023 in Morocco. Our specialists Intars Puriņš and Guntis Dlohi met up with our agent in Morocco – Jaouad El Madi.
"Sustainable Fisheries and Aquaculture: levers for an inclusive and efficient Blue Economy" – read the description of the event. And we can agree, that sustainability and finding ways to make the process more effective is the efficient way of approaching what's coming next.
What is the Halieutis exhibition?
Under the High Patronage of His Majesty King Mohammed VI, The 6th edition of the Halieutis Fair took place in Agadir,  the first fishing port of Morocco. From the 1st to the 5th of February Halieutis gathered specialists from the halieutic field from all around the world. The Halieutis Show is an international showcase for six segments: fleet & machinery, recovery & process, institutional, international, animation, and innovation. 
A section dedicated only to sustainable development was included in the sixth edition to enhance it. This program has a clear and sector-specific offer and is strongly geared toward an international audience. It is also a gathering place for forward-thinking global executives who pay attention to consumer trends and serves as an observatory of trends and developments. Additionally, this event serves as a venue for creating business opportunities.
A semi-movement of investment in the fisheries sector has begun, with trade fairs serving as a key lever. This movement is driven by the current context, which is characterized by the reform and modernization of the fishing sector around the world as a result of aging fishing fleets, shrinking fish resources, changing consumption patterns, and the insistent and urgent need to steer the world's economies towards sustainable development. As a result, new difficulties must be addressed on a worldwide level.
In the 16 000 m2 exhibition space, more than 350 exhibitors gathered to network and pay attention to rising global trends, as we enter new consumer patterns and global environmental issues. 
Featuring a double coastline, Atlantic and Mediterranean, Morocco has 3500 km of rich and varied coastline. Morocco is the top fish producer in Africa and the top producer and exporter of sardines, and its oceans, which have an exclusive economic zone spanning over one million square kilometers, are among the richest in fish resources. In the Moroccan economy, the fishing industry already has a significant economic and social impact. During the previous ten years, on average, it contributed about 2.3% to the GDP. The fishing industry supports almost 500,000 indirect jobs in addition to more than 170,000 direct jobs. Morocco has established a national strategy for the sector's development named "Halieutis."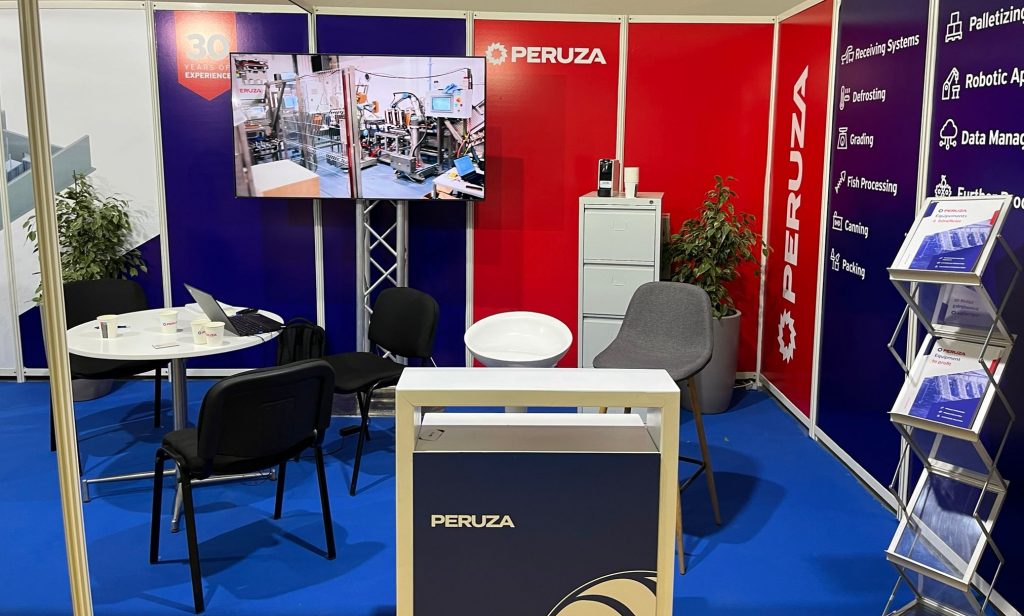 PERUZA's takeaway from the event
As we expected, we bring several important finding about Morocco market. Morocco has large producers that catch and process large volumes, and the fish caught are at relatively low prices. As predicted, in a country where the price of labor is relatively low, we see some issues that should and could be fixed. For producers and processors, the price of the equipment is primary, and sustainability, for now, is just an extra. But we already saw some opportunities, like equipment with higher manual labour involvement, but keeping in mind the sustainability and optimization of the process.
We see potential working with companies that control the entire cycle – from fishing to deliveries to store chains, etc. A very important factor for automating production lines is product and production hygiene. It is much easier to comply with machines than with operators. This is an important factor in obtaining quality certificates in order to be able to supply large international store chains.
As usual, such events are not only opportunities to meet other industry specialists, but also to look at common things from a different perspective and gain both experience and new ideas.
As robotics, automation, and machinery develop, you must look into the best possible solutions now. If you're interested in learning more about how PERUZA can help you get the best results with your food processing, feel free to get in touch at info@peruza.com, and we'll be happy to discuss the possibilities of us creating something great for your fish processing business!
*PERUZA was able to participate in the Halieutis Fair with support of Investment and Development agency of Latvia.