While PERUZA has more than 1500 projects realized under our belt, we feel like there is always space for growth and improvements in our expertise. That's why we like to push ourselves to continuously showcase our capabilities around the world.
With innovation-driven development and impeccable quality being the two most important pillars for PERUZA, we found it fitting to participate in this year's Seafood Expo Global in Barcelona.
What is Seafood Expo Global?
Seafood Expo Global/ Seafood Processing Global has been the largest event for the seafood industry, and it's been happening annually since 1992.
For 27 years this well-established event had taken place in Brussels, Belgium. Then the events had to be canceled due to the global Covid-19 pandemic.
Now, as the world is celebrating the safe return of trade events around the world & their importance in accelerating economic recovery, the first Seafood Expo Global/Seafood Processing Global that will take place in the new location in Barcelona, Spain, is going to feature more than 1,500 exhibiting companies.
It is set to happen from the 26th to the 28th of April at the Fira de Barcelona's Gran Via exhibition grounds.
Vice President Liz Plizga of Diversified Communications Group, the organizer of the event, states that the upcoming event will feature an estimated 39,545 square meters of net exhibit space, representing 97 percent of the size of the 2019 event, which was the largest edition of Seafood Expo Global/Seafood Processing Global yet.
The three-day event will also present a quite extensive educational conference covering 20 topics with 65 international experts featured. There will be panels on seafood industry business and leadership, an overview of climate change's impact on the industry, an update on the aquafeed sector, and much more.
On the first day of the expo, the annual Seafood Excellence Global Awards will be held. The awards recognize the best seafood products of the year with 39 finalists representing 13 countries this year.
With such an exciting program and so many amazing industry professionals to meet in one place, there really is nothing more to say about this event than – we hope to see you there, too!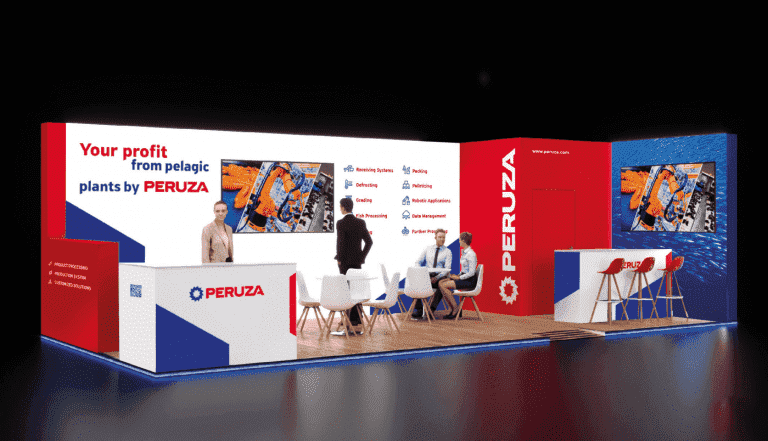 PERUZA is participating in this year's expo to showcase the importance of pelagic fish plants and how the technologies crafted by us can help your company profit more and waste less.
That's why you'll be able to find us in booth 3HH200 – we'll be there for all three days, and our experts will be glad to tell you more about our fish processing automation solutions and answer any questions.
You're also invited to learn more about how custom pelagic fish plant solutions have worked for other companies in the past, and what other types of solutions PERUZA is developing to bring process automation and manufacture the best equipment for fish processing businesses across the globe.
With the largest event for the seafood industry happening at the end of April, you still have time to arrange for your travel and come meet us in person in Barcelona. So what are you waiting for?
Go to https://www.seafoodexpo.com/global/ to learn more about the event, and we hope to see you in booth 3HH200!