There is no doubt that the food industry is one of the all-time fastest-growing industries. That requires many responsibilities – from the speed of the food production to maintaining consistently high food quality.
The competition in this industry is very high, which means that your company must always think 3 steps ahead to be able to maintain a high position in the food market. The good news is – this can be achieved with automated food packaging systems, which can process large volumes at high speeds, meeting the demand of the supply chains.
In fact, research by the Association for Packaging and Processing Technologies states that almost a third of food processing operations already use robotics in their facilities. According to another survey conducted by the organization, 94% of food packaging operations were done using robotics in the past few years.
What is automated food packaging?
A food packaging process can be divided into two main stages – primary and secondary packaging. In the primary packaging stage, the raw food needs to be wrapped or enclosed. In the secondary stage, products are packed into smaller cases or packages, before being put into a larger case and palletized for distribution.
Using vision-guided robotic arms, automatically guided machines, delta robots, and other advanced inspection systems, food production companies can make their operations much more efficient. But what are the other benefits that automated food packaging can provide?
What are the benefits of automated food packaging?
1. Higher production volumes in a shorter period of time
When it comes to the need of speeding up the production process or producing higher volumes of the product, an automated packaging system is a better solution than recruiting additional workers. 
Compared to traditional food processing methods, automated systems and robots have a few significant advantages. For example, food packaging robots are capable of repeating one specific task over and over with little or no variation in precision. These machines, unlike human laborers, never get tired, making it possible to maintain a continuous pace of work. 
This balance of precision and speed has been proven to boost food production companies' performance, maintaining industry standards for packaged items at the same time.
Year by year the concerns about food safety are drastically increasing. Research data show that almost one in ten people all around the world get ill after the consumption of contaminated food. Even more concerning is the fact that about 420 000 of them die every year from the same cause.
Despite the growing improvements in food safety standards, diseases that are caused by contaminated food still remain very common even in the developed countries. Food-producing companies can improve this critical situation by introducing automated packaging machines in their factories. You might be wondering – but how does that help?
Well, food packaging workers, especially those who work with raw products, can easily spread different types of bacteria from one product to another or from one factory area to another and so on. So, by reducing human contact in the food packaging process, food-related companies can significantly reduce the risk of contaminating the food.
Automated food packaging machines are set in one place, reducing the risk of carrying the bacteria from other places. Of course, there are still some minor risks of cross-contamination, if these machines are not cleaned properly, but, complying with all the necessary hygiene requirements, the risks are significantly lower.
3. Operations are done more precisely
All humans make mistakes, it is inevitable. But, in many situations, it can be very costly to the company. That's why for organizations that are involved in food production and packaging, quality assurance is critical. Reducing all the possible errors and defects is the most effective way to enhance income and efficiency. The best solution to achieve this is an automated packaging system.
More accurate weight calculations significantly reduced product waste, and correct labeling are some of the more common human-made slips that these automated food packaging machines can easily prevent.
4. Lower company expenses – reduced labor cost
By implementing automated food packaging systems in the factories, companies can significantly reduce the expense, and here's how. 
Finding responsible workers that are willing to work in food factories, that have to operate with high production and packaging volumes, can be really hard. By making these processes automated, using packaging machines, companies are not taking the job away from people – they're just making the work much easier. 
With these machines, all you have to do is introduce your team of workers to them and teach them how to use the machines. And every time your team members change, it is much easier to teach the new workers how to use the machine instead of teaching all the manual techniques.
5. Reduced risks of potential bottlenecks and downtime
When human errors occur during the process of manual food packaging, it can lead to bottlenecks in production. In those cases, automated packaging methods can help to alleviate this bottleneck – custom machines are built to keep up with the production line's flow. Therefore there are fewer opportunities for packaging errors with automated packaging, which means reduced downtime and bottlenecks.
Also, your staff is allowed to take breaks from the manual labor, and this means that the production stops during those periods, resulting in lower productivity levels of manufacturing. With automated food packaging machines, you can reduce the time that is lost in those breaks, because most of these machines work automatically, requiring little time – just for their monitoring.
To make the process of food packaging way more efficient, food companies need to use automation systems like PERUZA's "Reduced giveaway line" to always guarantee food safety and quality standards, meanwhile saving labor costs.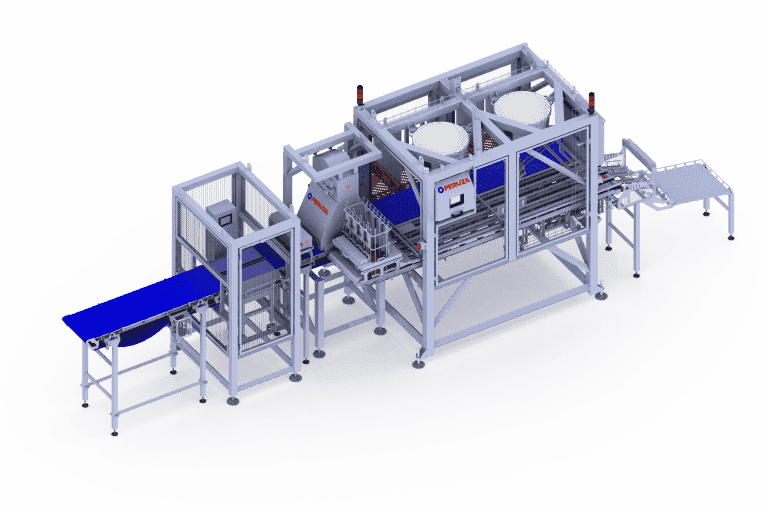 Our "Reduced giveaway line" is specially designed for automatic raw product inserting into plastic trays or boxes, ensuring significantly reduced product waste and increased line capacity.
This machine is great for every company that works in the food industry because it:
is adaptable to various products, ranging from fresh or frozen meat and fish to vegetables and fruit;

works with precise calculations, reducing the product waste;

operates at a high speed, increasing production volumes in a shorter period of time;

has an intuitive user interface which makes this machine easy to use.
Our automated food packaging machine can package up to 120 products per minute (or 60 per one lane), so just imagine how much time this would save you! Check out PERUZA's "Reduced giveaway line" here: https://peruza.com/solution/reduced-giveaway-line/!