Manufacturing and robots go perfectly together. Robotics nowadays play a significant part in the production scene – if a manufacturing company wants to achieve optimal results, increasing the overall work efficiency and quality, automated solutions are a must. Yet still to this day, many human workers are skeptical about robot integration into their everyday work, worrying that they might get replaced. But robots are meant to make their work easier, not to take their jobs away completely.
So in this blog article let's have a look at what robots and robotics are, how they've evolved in recent years, and how manufacturing companies benefit from having robots.
What exactly are robotics and robots?
By definition, robotics is a field in science, engineering, and technology that focuses on producing robots – machines that replicate human actions. Originally, robots were built to do repetitive tasks so human workers could concentrate on more complex things, saving time and effort and that way ultimately increasing production results.
We all know at least one sci-fi movie, where robots, that once were human friends, have taken over the world becoming people's worst enemies – and that's a total exaggeration, caricaturing what robots really are. 
Nowadays robots have significantly evolved in many ways – from fields, they're used to their amazing abilities. We can now find different kinds of robots in everyone's homes – robots are vacuuming our floors and turning the light on or off without our assistance. In 2005, 90% of all robots were found in automobile assembly plants. These robots were mainly machines with mechanical arms that are charged with welding or screwing on specific elements of an automobile. 
Today there are so many robots out there, and every robot has a different level of independence, ranging from human-controlled bots that perform tasks that a person has complete control over to fully autonomous bots that complete operations without any outside inputs.
Manufacturing companies in many different fields are using robots that are collaborating with human workers for quite some time now. These kinds of robots are called "cobots". 
Companies like "Cornell Dubilier" – a power capacitor manufacturer in the United States – are already seeing a return on investment from using cobots in their work procedures. For example, they have deployed robots to verify capacitor installations, resulting in a doubling of the labeling process speed from 125 parts per hour to 250 parts per hour. And a significant decrease in wasted time across the supply chain implies that human workers have more time to devote to jobs that need more creativity and thinking.
So it's only clear that industrial robots have this amazing power of reducing production time and making main procedures smarter and less expensive. And, according to PwC report data, approximately 59% of all US manufacturing companies are using one or another form of robots in their facilities.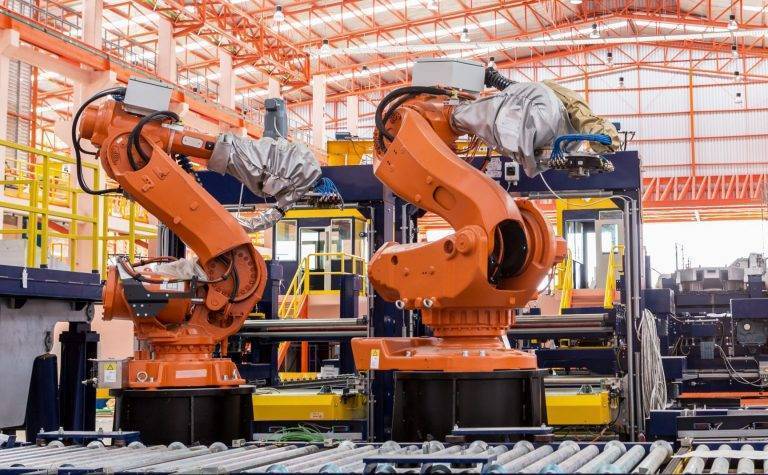 5 benefits from using robotics in manufacturing
As you now understand, there come many benefits with robot integration in manufacturing processes. Let's look at some of them:
increased efficiency in every process

: when you use any kind of robot – either mechanical arms or AI softwares –, you'll notice a significant efficiency increase in all manufacturing processes – from raw material handling to even the finished product packaging;
possible 24/7 operation

: there are many robots that can be configured to run 24/7, ensuring continuous production;
high flexibility

: most robotic equipment can be customized for your company's needs, so it can perform even the most difficult and dangerous tasks;
ensuring competitiveness

: since robots are used almost everywhere and many production companies are already using one or another kind of robotic solution, manufacturers need to integrate automation in order to stay competitive;
valuable investment

: overall robotic solutions are a highly valuable and even cost-effective long-term investment for nearly all company sizes – even small shops.
As time goes on, it only makes sense to introduce modern and up-to-date solutions in production facilities. You also have to think about your human workers – what is the cost of their coffee breaks, how much the production volumes reduce when some of your workers are sick, etc.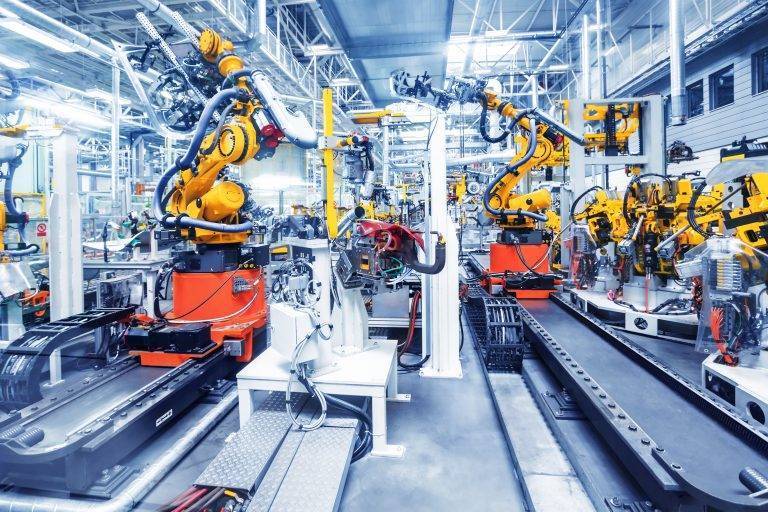 Are robots eliminating human jobs in manufacturing?
One of the biggest human laborer fears is about losing their jobs to robots – does robotic equipment integration into our work mean that we are going to lose our jobs completely?
And while these kinds of fears are understandable, they are not necessarily justified, and here's why:
by integrating robotic solutions into manufacturing facilities, more job positions can be created, as it can then produce higher production volumes and therefore accept more orders;

robots can free up human workers from monotone and repetitive tasks, while simultaneously creating more desired employment in fields such as engineering, programming, administration, and equipment maintenance;

robots can do more dangerous tasks, allowing human employees to remain safe, avoiding various injuries and troubles;

they let many different companies maximize their human workers' skills and knowledge in business areas, where more creativity and thought is required.
Should your company, too, start to think about robot integration?
As already discussed in this article, there are many benefits, not only in terms of your company's ROI but also for your employee work efficiency and productivity as well, from using robots in your manufacturing business. So thinking about ways you can improve your business in the new year, you should definitely think about robot integration in your production facility.
In fact, we here, at PERUZA, specialize in creating the best equipment for manufacturers, including many robotic solutions, such as:
Our experienced engineers will help you decide the best solutions exactly for your business's needs and goals, so feel free to contact us at info@peruza.com, and we'll keep in touch!